FSTCS "50th Anniversary" 2017 Annual Scientific Meeting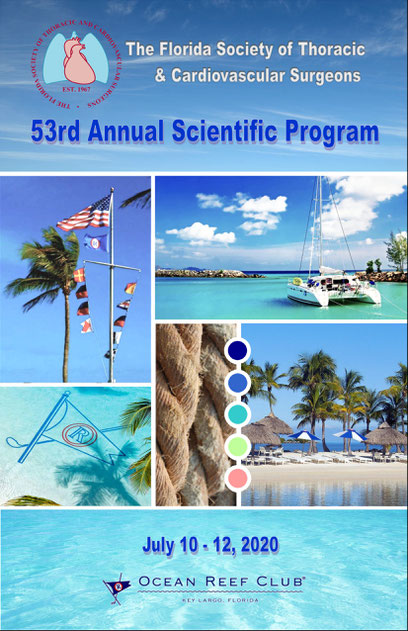 An Invitation from the President
 I would like to invite you to attend the "50th Anniversary" 2017 Annual Scientific Meeting of the Florida Society of Thoracic and Cardiovascular Surgeons, July 14-16, 2017.  We will be returning for the 19th year to the Ocean Reef Club in Key Largo, a premier destination and family friendly property!
This year's FSTCS meeting; "Honoring the Past While Looking to the Future"; will focus on presenting current clinical topics by some of our professions most outstanding and nationally recognized surgeons.  These topics will be presented and discussed in a small forum that is not possible in larger academic meetings.
Our scientific agenda will be highlighted by Dr. Tirone David from Toronto General Hospital speaking on the Need for Increased Usage of Mechanical Valves in Adults. Dr. Tom Beaver, Chief of Cardiovascular Surgery at the University of Florida, will discuss the Management of the Aortic Arch in 2017 and Beyond. Dr. Tom Martin will speak on Complex Aortic Root Repair and Dr. Kevin Accola will discuss Complex Mitral Valve Repair. Both Tom and Kevin practice in Orlando, Florida. Dr. George Arnaoutakis from the University of Florida will discuss Aortic Valve Repairs. Dr. Kevin Greason from the Mayo clinic in Rochester, MN, will give a TAVR update.  Dr. Jack Boyd from Stanford will present his experience with Minimally Invasive Coronary Artery Bypass Grafting. Dr. Harold Lazar from Boston Medical Center will discuss Prevention and Management of Sternal Wound Infections. We are also pleased to have Dr. Karl Illig, Chief of Vascular Surgery at the University of South Florida, discuss Treatment of Thoracic Outlet Syndrome. Dr. Mark Dylewski from South Miami Hospital will give us an update on Robotic Lung Surgery. Dr. Harvey Edmonds  from the University of Louisville will  present Cerebral Oxygen Saturation  Monitoring  in Cardiac  Surgery. Dr. Paul DiGiorgi from Ft. Myers, FL , will present the topic Acute Renal Injury in Cardiac Surgery. Laser Lead Extraction and Superior Vena Cava Laceration will be discussed by Dr. Roger Carrillo from the University of Miami and Dr. George Palmer from Orlando, FL. Current Thoracic Fellows Eric Jeng, MD from the University of Florida and Michalis Magarakis, MD from the University of Miami, will each present a current topic. Dr. Magdy El-Sayed Ahmed from the Mayo Clinic,  Jacksonville, FL, will present an interesting recent  complex case. Dr. Alan Speir from Falls Church, VA, will speak on Understanding Current Healthcare Policy... Where is all This Going? Dr. Jeff Jacobs from St. Pete, FL, will review Transparency of Cardiothoracic Results Reporting. 
As you can see we have an excellent set of speakers and pertinent topics for the practicing cardiothoracic surgeon.
We are very excited to welcome Steve Lindsey; former NASA astronaut; as our Friday evening dinner speaker.  I am sure that he will bring both an informative and interesting presentation to be enjoyed by all! As always, the ever-popular "Beach Bash" on Buccaneer Island will be held on Saturday evening.
Our Society welcomes your entire family to participate in this informative, fun and lively experience.  There is much to do in and around the Keys and I urge you and your family to partake and enjoy.


William H. Johnson, III, MD
President, Florida Society of Thoracic & Cardiovascular Surgeons
REGISTRATION NOW OPEN!
FSTCS "50th Anniversary" 2017 Annual Scientific Meeting Preliminary Program
5.5.17 FSTCS 2017 AM Preliminary Program
Adobe Acrobat Document
5.1 MB
FSTCS 2017 Annual Meeting Registration Form
Registration Form FSTCS Annual Mtg 2017x
Adobe Acrobat Document
757.5 KB
MAKE YOUR RESERVATIONS NOW!
OCEAN REEF CLUB ACCOMMODATIONS
Ocean Reef Club
35 Ocean Reef Drive
Key Largo, FL  33037
We encourage you to make your room reservations EARLY! 
July in Key Largo is a popular time of year and the Ocean Reef 
Club is a popular traveler's destination.
Make your reservations online at:
https://aws.passkey.com/e/12672815


Ocean Reef Club Reservations: 1-800-741-7333

FSTCS special conference rate:
 $210 S/D or $349 - 2 BR Condo.  
(For those who would like to extend their stay, these rates
are available 3 days prior to and 3 days after the meeting dates.)
Group Room Rate Cutoff – Tuesday, June 20, 2017
(Reservations after this date are subject to availability and will be at the current rate.)
*******Annual Meeting Family Activities*******
CHILDREN'S FISHING TOURNAMENT
Register your children for the FSTCS Annual Children's Fishing Tournament which will be held Saturday Morning at the Fishing Village.  Let your "little one" test their angling skills and try to catch the "BIG ONE" and win a prize!
FAMILY SNORKELING TRIP
The family snorkeling boat departs from the Dive Shop at the Fishing Village at 1:00 p.m.  Sign up to explore the coral reefs at John Pennekamp State Park, where the only living reef in North America is located.

REEF CLUB KIDS
The Ocean Reef Club also offers organized children's activities through "Reef Club Kids". Please call 888-422-0128  for information and reservations.